Infrared repair is the state-of-the-art process of heating existing asphalt, without burning it, to a point where it can be reworked with hand tools to repair damaged pavement. Sometimes this requires the use of rejuvenating agents and/or additional hot asphalt. The repairs can take many forms and normally are more cost effective than other conventional methods.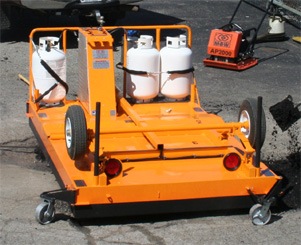 Versatile Infrared Asphalt Repair Heater KM4-40TM
The performance of this versatile workhorse is unmatched. Equipped with four independent heating zones which can isolate the area to be repaired without softening areas where repair is not necessary. Our heating surface radiates a very high yield of Infrared energy per amount of propane extended.

| | | | |
| --- | --- | --- | --- |
| NO SAW CUTS,NO ROAD BREAKERS,NO WASTE!!!! | | | |
| | | REJUVENATION LIQUID APPLIED | |

We specialise in eco friendly waterbased road markings for tarmac and concrete,less harmful,less polution,faster drying,less down time for your buiness.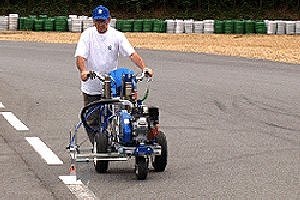 GRACO LINELAZER IN ACTION. The Graco LineLazer machines are engineered to deliver precise and consistent lines on Parking Lots, Tennis Courts, Roads, Streets, Runways, and Paths.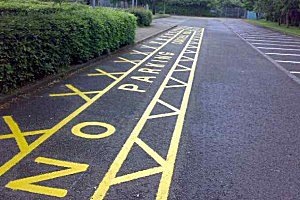 Health and safety in the workplace is becoming an employers nightmare. Slips trips and falls account for 78% of all accidents !

Anti-slip floors,walkways,carparks,steps and even ladders, drasticaly cuts the risk of this happening .

Our eco friendly waterbased anti-slip means less polution,faster drying time,less downtime for your buisness and more cost effective.